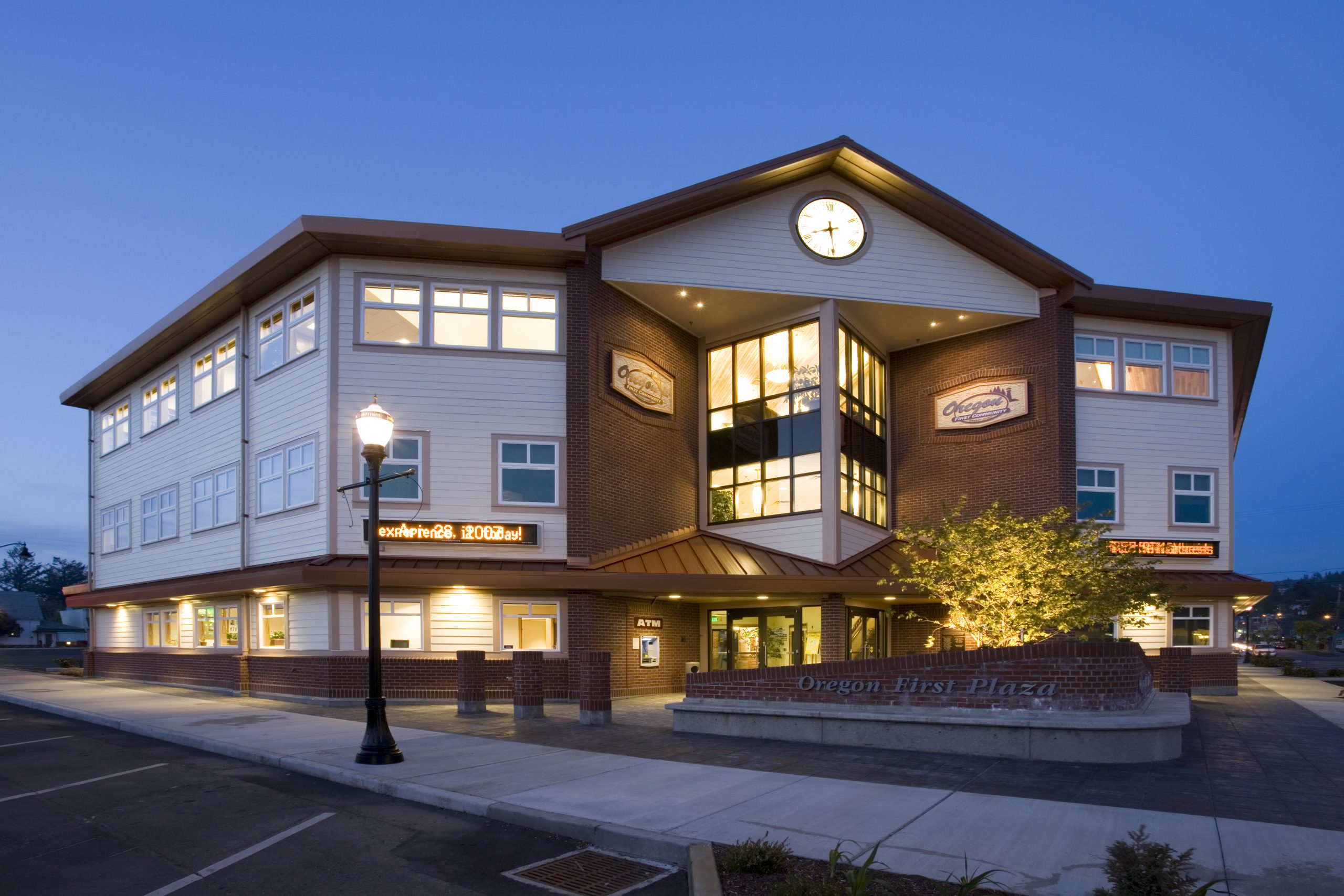 OREGON FIRST PLAZA - OREGON FIRST COMMUNITY CREDIT UNION
HGE acted as Project Architect for Oregon First Community Credit Union's (OFCCU) headquarters and branch expansion program from 2001 to 2015, designing and performing construction contract administration for 16 new and remodeled buildings in Oregon and Washington.
The 29,000 sq. ft. Oregon First Plaza in Coquille was designed with the future in mind. The 3-story facility houses corporate offices, a branch office, a future phone center, data systems, and additional tenant space. The boardroom includes an integrated audio and video system that is interfaced with data technology.
With OFCCU's growth came the need for a building to replace the existing headquarters building in Coquille. HGE worked with OFCCU's entire staff to arrive at a final design that would satisfy their immediate and future growth needs. The 3-story wood and steel-framed structure's design components include:
State-of-the-art boardroom with two large projector screens, lighting control, audio/video conferencing, wood panel ceilings, wainscot, and trim.
Digital security door hardware and programmable keyless access hardware.
Brick and horizontal exterior siding.
Exterior balconies for staff break areas.
Conference rooms with built-in projectors, screens, and data connections.
Branch banking center with drive-up window and ATM.
Emergency generator for the entire facility in the event of power outage (excluding HVAC).
Separate computer room with stand-alone clean agent fire suppressant system and uninterrupted power supply.
Finishes include oak trim, ceramic tile with accent, oak panel wainscot, chair rails, and panel ceiling in select areas.
Location         Coquille, OR
Completed      May 2006
Contractor      DLB Construction
Cost            $3.9 million
Size             29,000 sq. ft. 
Type            Remodel/Addition