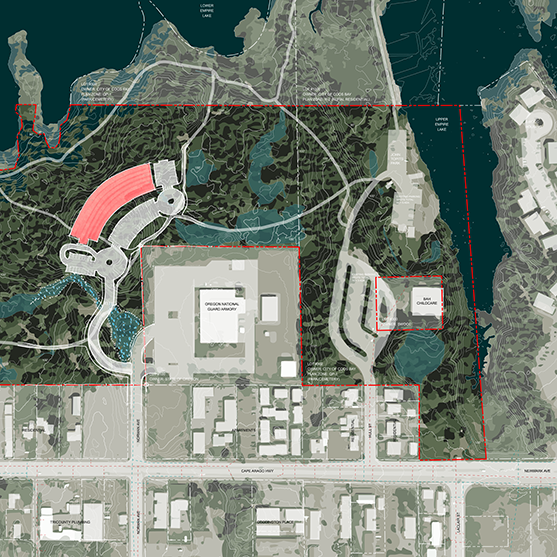 HGE performs complete exhaustive studies of structural, maintenance, and site improvement needs for large project sites such as school districts and municipalities. A 1998 bond measure for the Coos Bay School District met with success, providing upgrades to roofs, handicapped accessibility upgrades, and new structures throughout the District. Construction for the $6 science and math building at Marshfield High School was completed in 2000. 
HGE was chosen by the School District to perform Bond Measure pre-design and planning services in preparation for a 2016 bond measure to upgrade School District facilities. Our work included an updated needs assessment, education specifications, building program, several design options for consideration and discussion, and a final unified concept design for all campuses that the District and community can embrace. 
HGE was retained by the Coos Bay Public Library Foundation to perform site planning, site analysis, and site design to accommodate library expansion plans and master plan goals. HGE developed three site plan options and comparison cost estimates for each scheme.
Master Planning services include the identification of the following facility components:
Site access, parking, ADA routes

Building envelope: walls, roofing, openings – doors and windows

Safety: supervision, passive supervision, natural surveillance, functional lockdowns/technology, review safe learning environments

Structural: primarily notable concerns, i.e. seismic resistive construction, and connections. 

Interiors, Finishes: ADA compliance, architectural barriers, accessibility, walls, ceiling, flooring, building accessories/equipment, restrooms, kitchen

Plumbing: Fixtures, piping

Mechanical: Systems, air flow, quality, distribution

Electrical: Service, distribution and receptacles, data plant, other technology; fire alarm, security alarm, lighting
Location         Oregon 
Type             New Construction/Remodel