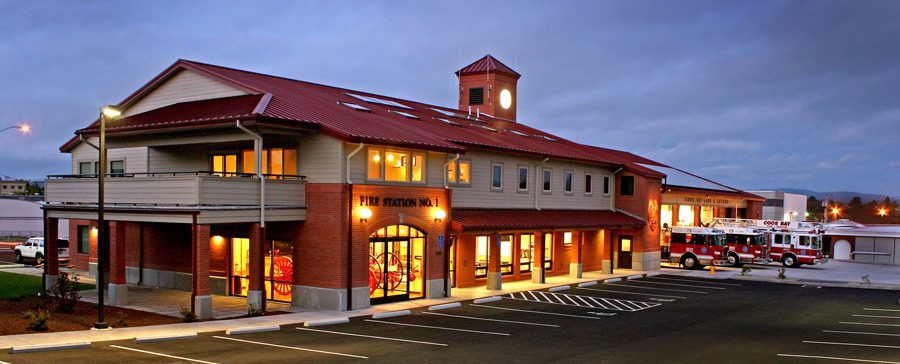 A highlight of HGE's public involvement process is the Coos Bay Fire Station #1 project. The building is highly regarded locally as an example of improving public service and showcasing community pride.
HGE was retained by the City of Coos Bay Fire Department to perform site analysis for a new fire station building. HGE performed space planning surveys/interviews to determine the department's space needs. A tour of several fire stations was undertaken to find the best fit for the City. HGE presented preliminary concept sketches for each site under study. A series of meetings with numerous city council and public presentations ensued to find the best location for the new fire station, comparing access, location, truck egress, soil conditions, and cost estimates. The estimates prepared by HGE were used for the successful bond measure campaign.
The fire station building is a U.S. Green Building Council certified LEED Gold facility. Also included in the project scope were building demolition, off-site street improvements, commissioning services coordination, furnishings, landscaping, and irrigation design.
Location Coos Bay, OR
Completed June 2010
Contractor Team Construction
Cost $4.3 million
Size 19,800 sq. ft.
Type New Construction