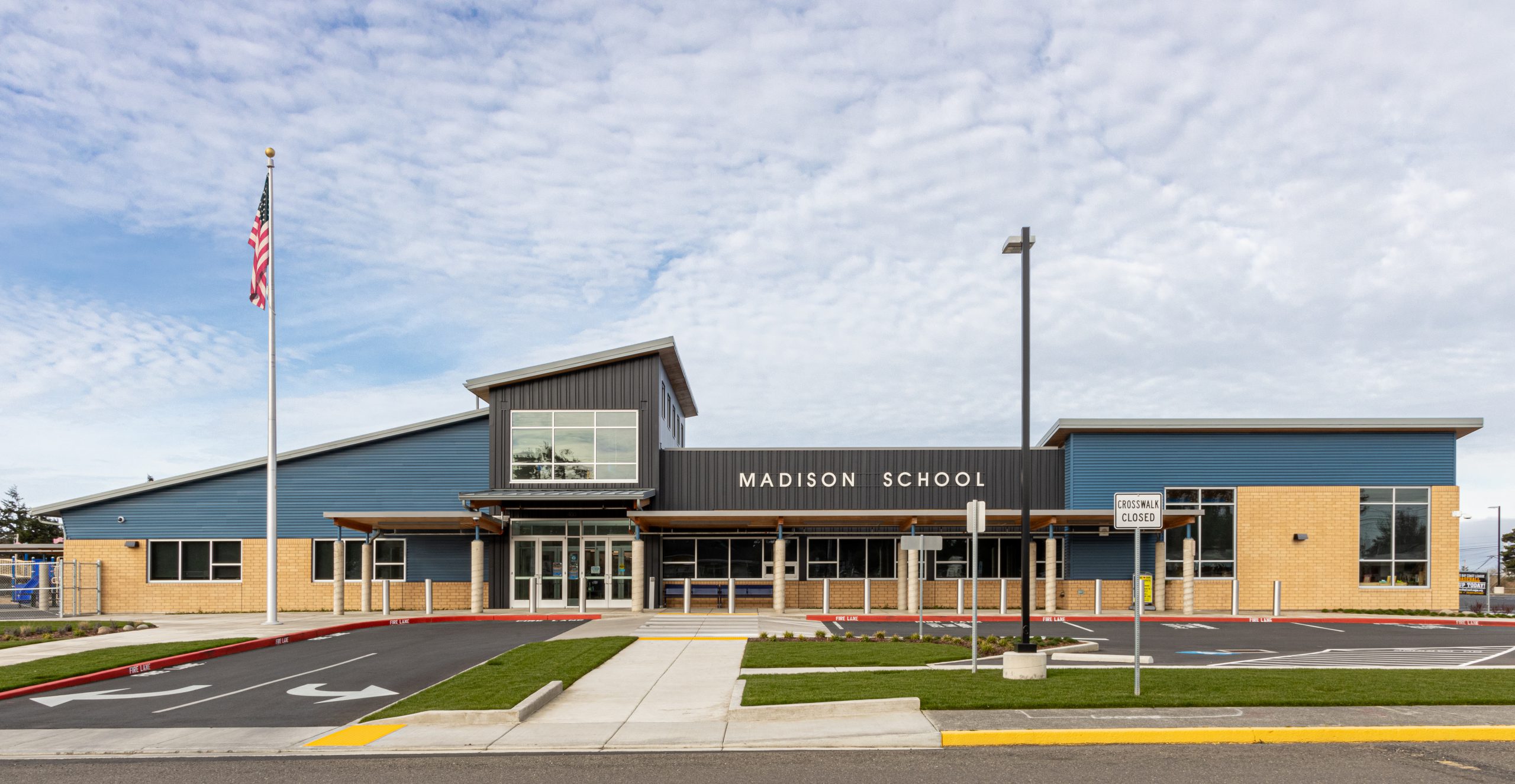 Madison Elementary School
The Madison School Renovation project is considered the capstone of the $60 million bond measure for the Coos Bay School District in Coos Bay, Oregon. The design team was tasked with revitalizing much of the existing facility that was considered for replacement. Design goals included improvements to campus security, accessibility, and functionality.
New construction created additional classroom spaces with a wide, daylight-filled hall, ADA accessible restrooms, specialized program classrooms, a new library, and improved staff areas. A new connecting passageway between the gym and classrooms provided the opportunity to create an elevator lobby/student gathering area for better access to the cafeteria on the lower floor below the gym. Enlarged hallways at the front and rear of the building provide ample room for students to gather in small groups.
Location         Coos Bay, OR
Completed      February 2023
Contractor       Scott Partney Construction
Cost             $16.2 million
Size              51,024 sq. ft. 
Type             Remodel/Addition
Existing buildings, originally constructed in 1953, received seismic upgrades, LED lighting, data wiring, and new mechanical systems. The previously gloomy main classroom hallway is now bright and inviting. A new metal-clad sloped roof structure was built over the existing multi-tiered flat roofs to manage the area's 60+ inches/year of coastal rains. New finishes throughout included acoustical ceilings, walls, wall protection, and flooring. The cafeteria and gym received modern upgrades and finishes. The kitchen was redesigned and expanded to better provide efficient and convenient food services.
The secure vestibule addition created a single point-of-entry flanked by the reception office and was coupled with a secure campus perimeter. The entrance reconfigured bus, vehicle, and pedestrian circulation, providing a designated parent pickup/drop-off area under a covered walkway, separate from the bus area. Playground improvements included a new covered play structure that would allow for outdoor play during rainy days, new equipment, and the addition of an asphalt walking track with accessible drinking fountain. Modular classrooms were removed to create additional staff parking and a secure space for the relocation of the existing greenhouse and school garden.
Community feedback has heralded improvements to be a complete transformation of the school, a focal point for the neighborhood, bringing new life to the outdated facility to better serve its students, staff, and visitors.